New Patients at Family Chiropractic Center
What to Expect
Once you've scheduled your appointment with Family Chiropractic Center, you can complete our new patient paperwork online. When you come in, be sure to bring your insurance information and ID. If you've had recent imaging, you may bring that with you, but it's not necessary. If possible, we ask that you wear everyday clothing without metal or jewel decoration.
From Diagnosis to Solution
Our upbeat front desk staff will welcome you into the practice and help with any questions you may have about insurance or anything else. You'll watch a short introductory video, and then you'll meet with your chiropractor.
Your doctor will go over your health history with you, letting you tell your story and listening intently as you do so. He may ask some questions to gather more information that will help in diagnosing your condition.
Next, we'll conduct thorough examinations that will include neurological tests, orthopedic assessments and chiropractic exams. Throughout the entire process, your chiropractor will explain everything he's doing and what he's looking for. Finally, we'll take X-rays, which we'll use to confirm our diagnosis and pinpoint the location of misalignments.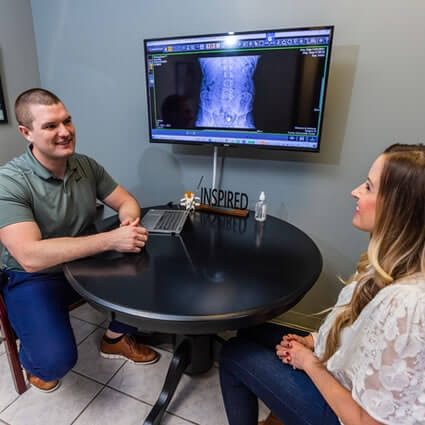 Recommendations
Your chiropractor will carefully study your exam results to come up with his treatment recommendations. We'll go over this report of findings with you, explaining everything, including how long we expect treatment to take. We'll answer all of your questions, and our chiropractic assistance will go over our financial policy so you know exactly what to expect.
Payment Options
We are in-network with most major insurance plans in our area, including Medicare. We will work with you to verify your coverage. We also accept Care Credit and all major credit cards, you may use your health savings account (HSA). We are committed to helping you receive the care you need, so we offer in-house payment plans.
Take the First Step Today
Contact us today to book your first appointment. We look forward to welcoming you into our care.
CONTACT US

New Patients at Family Chiropractic Center | (412) 787-3320