Establishing Roots
After graduating from Palmer College of Chiropractic in 2012, Dr. Hartung practiced in Iowa for a few years. A native of the area, he decided to come back home to Pittsburgh and he joined Family Chiropractic Center as the new lead clinician and owner in 2014 when Dr. Tom Petrisko retired. The practice has been open since 1983 and is well established in the area. He and his wife chose Robinson Township because it has the buzz and energy of a city with the friendly feeling of a smaller town, and he's grateful to be able to provide care for people in the community he loves.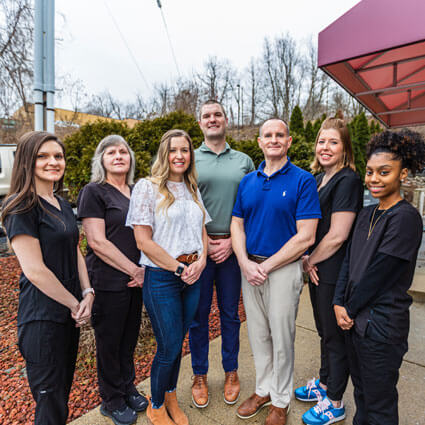 Restoring Positive Energy
Our high-energy, upbeat team wants you to feel better the moment you walk through the door. We're positive and excited to be with you on your journey to better health, and we're committed to being a bright spot in your day. Our approach is scientific and thorough, but there's no reason that has to take place in a cold, clinical environment. We get to know our patients and celebrate their health victories with them.
Improving Every Part Of Your Life
A favorite success story involves a man in his forties whose moderate back pain was affecting his ability to perform his construction job. As a small business owner, he was worried about his livelihood. Within three months of our care, his back was better, and he was thrilled that he could continue working.
But more than that, he realized that his pain had been keeping him from taking walks with his wife, participating with his kids' sports and doing projects around the house. We love when patients understand that taking care of your pain improves every part of your health and every part of your life.
Start Today
Contact us today to book your first appointment and get back to living the life you love without pain or dis-ease.

About Family Chiropractic Center | (412) 787-3320